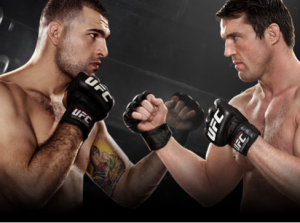 The second UFC event on BT Sport will be this weekend Saturday the 17th of August and will be headlined by Mauricio "Shogun" Rua and arguably the greatest trash talker in MMA, Chael Sonnen. The fight card is pretty stacked with former title contenders Alistair "The Reem" Overeem and Urijah "The California Kid" Faber set to compete and hopefully secure a win in order to move up the rankings for another shot at their respective titles. A loss would spell disaster for either fighter's hopes at title contention and with the UFC's fighter pool being so deep it could mean the cut for either of them.
The event will be held at the TD Garden in Boston, Massachusetts. With so many interesting match ups on the card let us have a closer look at the main event between Mauricio "Shogun" Rua and Chael Sonnen.
Mauricio "Shogun" Rua
Coming off of a unanimous decision loss to Alexander Gustafsson which took his professional record to 21-7 with a UFC record of 5-5. Shogun needs a win if he ever wants another shot at the light heavyweight title and a chance to avenge his devastating loss to Jon "Bones" Jones at UFC 128. Shogun once ruled Pride with his devastating Muay Thai and slick Jiu Jitsu but has not found form since entering the UFC, perhaps down to the fact that he has spent a lot of time dealing with various injuries. Hopefully he is fully healed and can show what he is truly capable of. He has teamed up with hall of fame boxing trainer Freddie Roach for this camp so expect Shogun to show off his crisper punches and more technical striking.
If Shogun can keep the fight standing he should be able to out strike Sonnen. If he cannot stop the Greco-Roman wresting skills of NCAA Division I and Olympic alternate that is Chael Sonnen we might see him controlled on the ground. Unless of course he can use his slick Jiu Jitsu skills to his advantage and we all know that Jiu Jitsu is Chael's weakness.
Chael Sonnen
Sonnen is also coming off back to back losses from 2 title shots at 2 different weight classes. Talk about having "The Gift of Gab", Sonnen has managed to talk himself into 2 title shots and 2 big pay days as MMA's premiere trash talker. Coming into this fight with a professional record of 27-13-1 and a UFC record of 6-6. Sonnen needs a win.
I personally find him very entertaining and he is a very skilled fighter with some of the best Greco-Roman wrestling in all of MMA. His striking has improved but I would still consider his strength his grappling. He is a smart fighter and great at playing head games. If he can take Shogun down he can no doubt grind out a win if he keeps his wits about him and does not get caught in another triangle. However, if the fight stays on the feet he is going to have a tough time.
My Pick
In my opinion Shogun takes this fight. He has more tools to win and an unmatched killer instinct. If Shogun can keep it on the feet and off the mat I can see him actually finishing Sonnen by TKO with his superior striking skills. Especially since he has now tightened up his boxing by working with Freddie Roach on the technical aspects and mechanics of his punches. But this is MMA and anything can happen so it is just as likely that Sonnen will play it safe, take Shogun down and grind out a boring unanimous decision win or even a ground and pound stoppage but all fights start on the feet and with Shogun's skills on the ground that is unlikely not impossible but unlikely and we have all seen Chael get caught in numerous triangles and arm-bars.
Final Thoughts
Shogun by TKO.