So I finally got round to watching the UFC due to work commitments and it was good.
UFC Fight Night: Shogun Vs Sonnen was full of surprises and upsets and boy was my prediction for the main event wrong. The event was full of finishes which I like to see because it is my philosophy that a fighter should be looking to win and not just eek out a decision. So let us breakdown 3 of my favourite finishes of the night.
Matt "The Immortal" Brown Vs Mike "Quicksand" Pyle
Matt "The Immortal" Brown extended his winning streak by putting away the very tough Mike "Quicksand" Pyle. Pyle is normally known for his slick ground game but has been finishing people on the feet as of late. This is where I believe he went wrong; he was overconfident in his striking skills when compared to the superior striker that is Brown. Brown is notorious for his tenacity, aggressiveness and toughness and likes to keep the fight standing where he can use his often superior striking skills to outclass his opponents. This is exactly what happened and Pyle made the mistake of not taking the fight to the ground where he had the advantage, instead he chose to strike with Brown and paid the price. It all started off with a solid opening leg kick from Brown which if you have ever experienced is devastating. Brown then doubled up his jab to send Pyle back towards the cage. A smart move as this leaves an opponent with only 2 choices which are moving left or right as they can no longer back up anymore. This lead to Brown being able to land a solid left to the liver which again is devastating and spelt the beginning of the end for Pyle as Brown followed up with headshots and a knee to the head which dropped Pyle. Brown poured on the pressure and finished Pyle with a series of strikes which left Pyle out cold on the mat.
Brilliant display of precision striking from Brown taking him to 6 straight wins.
Alistair "The Reem" Overeem Vs Travis "Kuualiialoha" Browne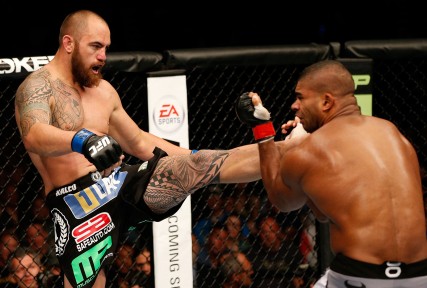 Alistair "The Reem" Overeem took another devastating KO loss in his career and his time in the UFC in spectacular fashion from Hawaiian giant Travis "Kuualiialoha" Browne. This was shocking but not surprising; I expected a finish from two men with one punch or in Alistair's case one knee knockout power. It was not a fluke by Browne either as he weathered an early storm as Overeem tried to overwhelm him early with his trademark knees some of which were illegal. But Browne showed some incredible toughness and fought back to eventually KO Overeem in the last minute of the round. The finish came as Overeem showed signs of obvious fatigue from trying to finish Browne early on. Browne kept Overeem at distance with front kicks eventually landing one to Overeem's face as he plodded predictably forward. This dropped him to the mat where he was finished with a series of hammer fists.
It was an amazing display of toughness and endurance from Browne against a top tier heavyweight. Does this mean the end of Overeem? We shall wait and see.
Mauricio "Shogun" Rua Vs Chael Sonnen
Chael showed that he has still got it by submitting Shogun in the first round of what I thought would be a fight played out on the feet. I said Chael was smart and this is why, he was not foolish enough to play into Rua's strength which is his stand up. As the bell sounded Chael immediately shot in for the takedown which was stuffed by Rua and reversed. This was particularly impressive as Chael has one of the best power doubles in MMA. Chael smartly threatened with submissions to eventually work his way back to his feet with a guillotine attempt and eventually took Shogun down with a beautiful display of Greco-Roman wrestling. On the ground Chael was aggressive looking to pass Rua's guard and looking for submissions. Shogun tried to look for opportunities to sweep Sonnen but a wrestler's base is something hard to overcome. Unable to sweep, Rua ate some punches as Chael popped off a few heavy shots from within his guard softening Rua up at the end of the first round for the finish. As Chael baited Rua to stand up he jumped into a guillotine choke to take out the former king of Pride with 16 seconds left in the first round.
A beautiful display of superior ground fighting from Sonnen tapping out Shogun and putting himself back into the mix but I do not know what this spells for Shogun's career. However with an ever entertaining post fight interview I think we can expect to see Sonnen again soon. He is a smart man who knows how to promote himself and I for one will be looking forward to his next fight.
An excellent end to an exciting night of fights.