So I participated in the CrossFit Level 1 Seminar recently and was pleasantly surprised. It was a 2 day course that revolved around lectures and practicals. With all the negatives surrounding CrossFit I was expecting the Level 1 Seminar to be of low quality but I was very wrong.
If you have been following my blog posts for a while you will remember my previous post regarding CrossFit. So why did I do it? While I may not agree with all of it's philosophies I cannot deny that it is bringing together many areas of the fitness world that previously would not have spoken. Such as power lifters and Olympic lifters. So I chose to do the CrossFit Level 1 with the aim to meet more like minded people who are passionate about fitness and nutrition.
Now there is a lot of information crammed into the two days and topics are only touched upon briefly so do not expect lengthy discussions about nutrition or physiological and neurological responses to exercise. However, you will get two days of high class coaching and lots of enthusiasm.
Day 1 –
The day kicked off nervously but nerves were soon settled by the very friendly seminar staff. We were then thrown straight into a lecture about what is fitness? Followed by a lecture regarding what is CrossFit? Both lectures were entertaining and educational. The key is to have an open minded approach when entering into the lectures as they are CrossFit's philosophies which may not agree with your own but nonetheless if you wish to be successful at the end of the weekend you need to pay attention to the concepts being put across and take notes.
We were then introduced to our first movement series; the squat, the front squat and the overhead squat. This is where I found out that I do not move as well as I personally believed and got some valuable coaching from the seminar staff.
Before we knew it, it was lunch time where we were informed was to be followed by another practical! As we all had our lunches the seminar staff engaged in a workout. It was a typical CrossFit style 20 minute AMRAP (as many rounds as possible). It was interesting to see the seminar staff move, in particular Zach Forrest who finished in the top 50 in the 2013 CrossFit games. The games are where CrossFit athletes from all over the world compete to see who is the fittest on Earth.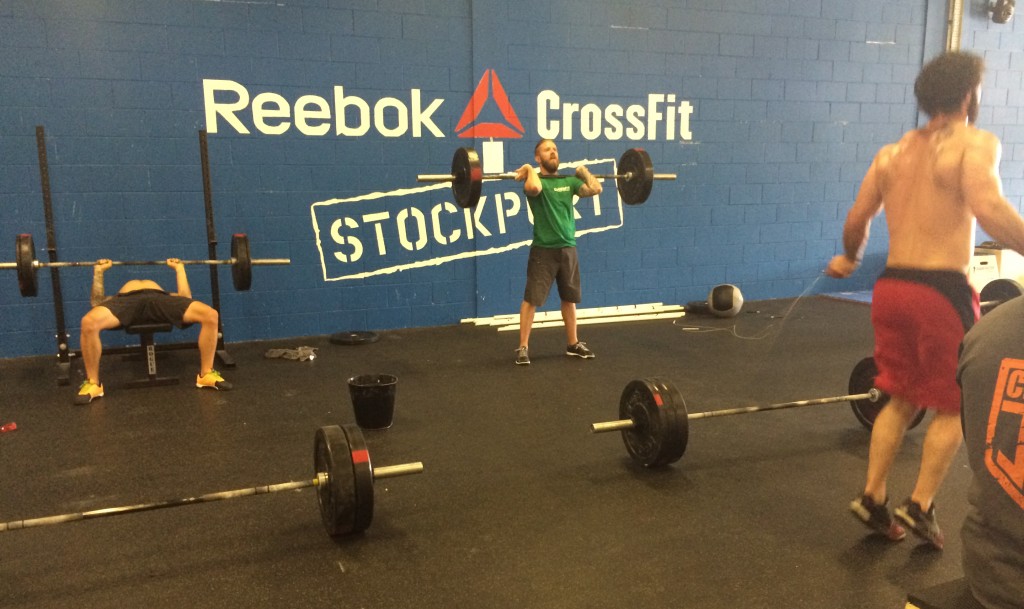 After lunch we were introduced to our second series of movements; the press, push press and push jerk. This was then followed by CrossFit's notorious 'kipping' pull ups which were tougher than they look. If you are familiar with CrossFit you can see where the day is progressing. If you are not I can inform you that we were all expecting the day to finish with our very own workout, the notorious 'FRAN'. There were a lot of nervous looking faces as we were introduced to our final movement pattern of the day the thruster.
When we had all got to grips with the final movement pattern for the day it was workout time. However, we were informed due to health and safety reasons FRAN was no longer allowed to be performed at the Level 1 seminar. I was a little disappointed but then we were informed that the workout would be a team workout, where in 3's we would perform 3 rounds of 15 thrusters at 95lbs and 15 burpees and to my horror our team finished last. As I was last in the rotation I was left to finish my final set of thrusters and burpees with the whole room cheering me on which was an eye opening experience!
And that was how the first day ended. All in all it was a great first day!
Day 2 –
The second day kicked off as a recap of the first day to help prepare us for the test that everyone was dreading. After the brief revision session we were introduced to the dead lift and medicine ball clean. After performing these two movements we were surprised to find that we were to be put through another workout! The workout involved 8 medicine ball cleans, 10 press ups and 12 sit ups for as many rounds as possible in 8 minutes. I managed 5 rounds without really pushing myself too hard.
Following the workout was a brief lecture regarding nutrition which was then followed by lunch. Again at lunch the seminar staff got to have fun with a quick CrossFit workout. After lunch we were shown our final 2 movements the ring muscle up and the Olympic snatch.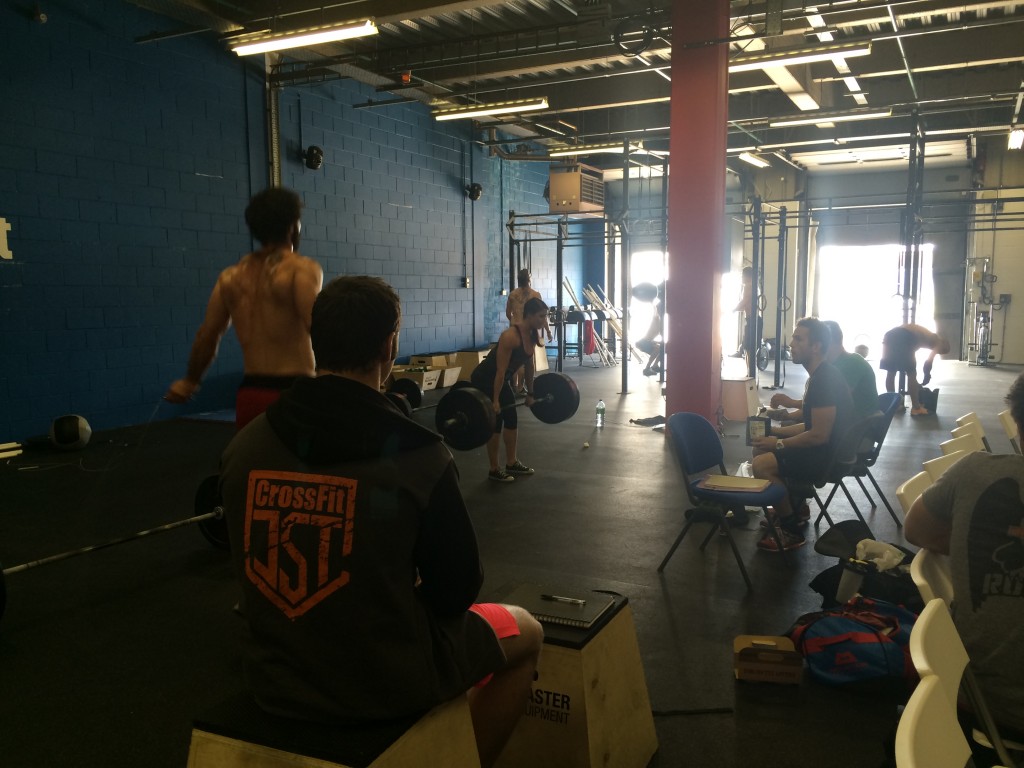 Then came the moment everyone was dreading, the test! The test lasted 60 minutes and consisted of 55 questions that covered all the information that was delivered over the course of the two days. I managed to breeze through the test in 20 minutes which left me plenty of time to go over my answers. When we finished the test we were done for the day. We were informed that after everyone had handed in their tests we were free to go.
So that's it! That was my weekend at the CrossFit Level 1 Seminar and I have to say I really, really enjoyed it. It was really great to meet like minded people and I got to receive some world class coaching! After about a week you will receive an e-mail informing you of whether or not you passed.
I am relieved to say that I was successful and can now call myself a CrossFit Level 1 Trainer or CF-L1 Trainer. What does that enable me to do? Well, I can now train people using CrossFit methodology, work at an existing CrossFit affiliate as a trainer or even apply for affiliation and open my own CrossFit box. Will I do any of those things? Maybe, only time will tell.
Train Smart Not Hard!