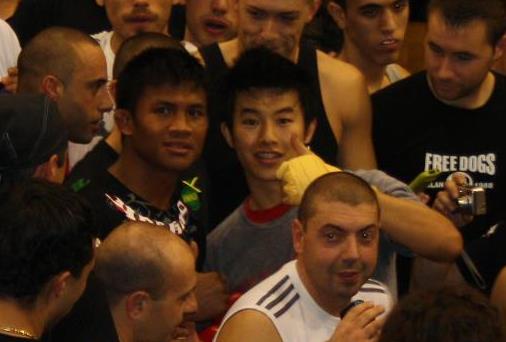 Throwing back to when I met and trained with 2 x K1 Champion Buakaw Por Pramuk in Milan, Italy. He captured the K-1 title in 2004 and 2006. He is now known as Buakaw Banchamek and will be competing again on September 14th to try and capture the K-1 crown for a third time. Check out the video below of Buakaw wrecking a banana tree.
It was a dream come true to meet and train with the K-1 legend and I wish him luck in the upcoming tournament. Hopefully he can win the title for an unprecedented third time. If you do not know what K-1 is it is a collection of the crème de la crème of stand up fighters competing to see who the greatest striker in the world is. Check out the poster below.
Do not forget to tune in. It is sure to be a great night of fights. Osu~!